YOUBER Portable Movable Seawater Desalination RO system


OEM and ODM accepted



1. As the content of salt in the seawater is too high, that can not be used directly, there are mainly two methods to desalinate seawater, distillation and reverse osmosis. Distillation is mainly used for super-huge type seawater desalination and heat energy rich area, energy consumption is very high. Reverse Osmosis is very widely applicable, low energy consumption and high desalination rate, so it's widely used.
2. We use the international best quality of seawater RO membrane. The membrane's salt removing rate is very high, with stable performance, safe and reliable. The HP pump we used is the international brand which is specialized in seawater desalination. The treated water quality meets the national life drinking water quality standards (GB5749-85), do not add any chemicals, can be used for direct drinking, fresh and sweet.
3. For the portable use, reliable water, cheap price etc., after a long time of design and practice, we integrate the reliable technology and advanced technology, make our equipment stand out! From here on, you will experience the different use feelings!

YB-SWRO-1000LPD Portable Movable Seawater Desalination RO system

Advantages & Characteristics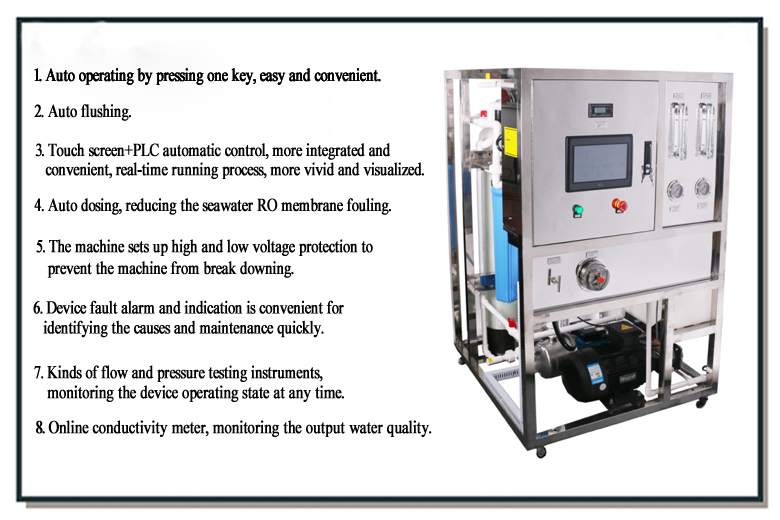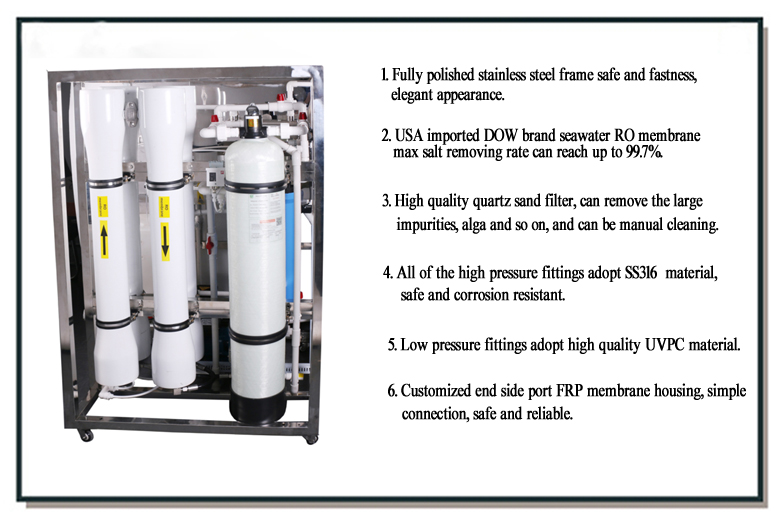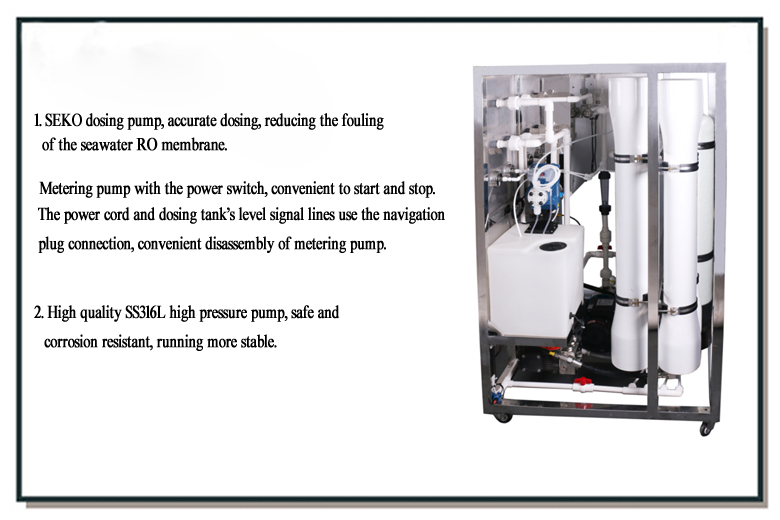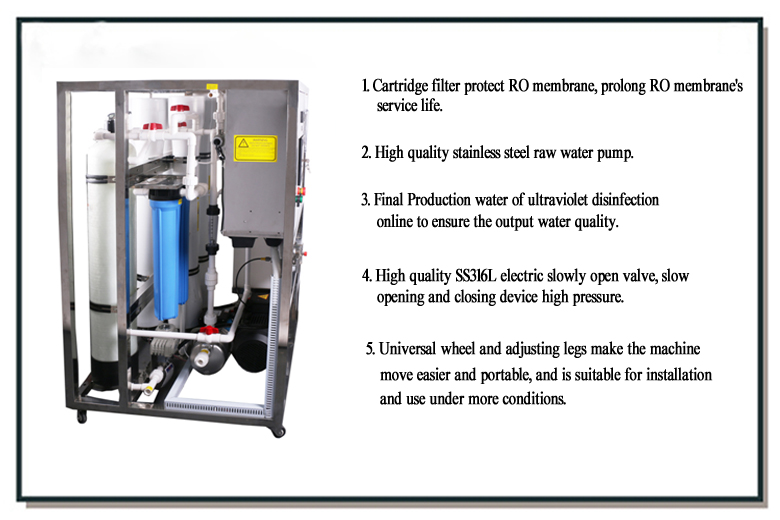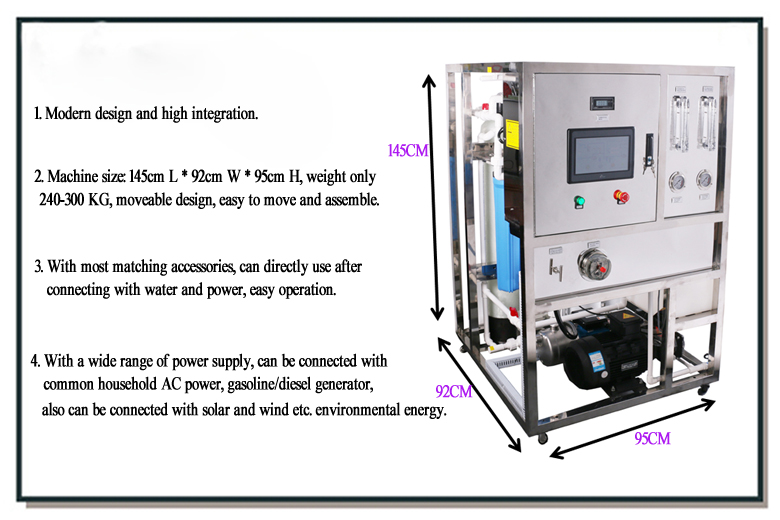 YB-SWRO-10000LPD Portable Movable Seawater Desalination RO system
Technical parameter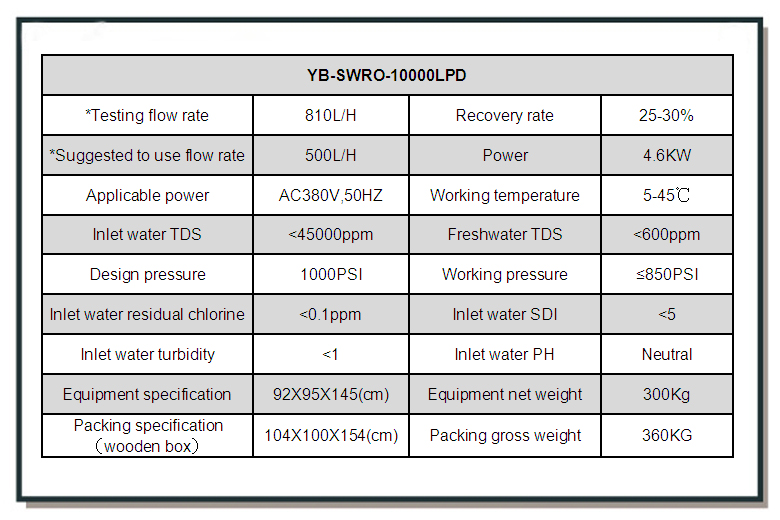 Note:
* is based on the below testing conditions: 32000ppm NaCl, 800psi (5.5MPa), 77°F (25℃), PH is 8, less than relevant recovery rate (variation range no more than -15%);
* Based on the below reasons: different seawater quality in every place, bad seawater quality and bad equipment usage environment, complicated seawater composition, we suggest customer to use "suggested flux", which can protect the equipment service life;


YB-SWRO-10000LPD Portable Movable Seawater Desalination RO system
Configuration list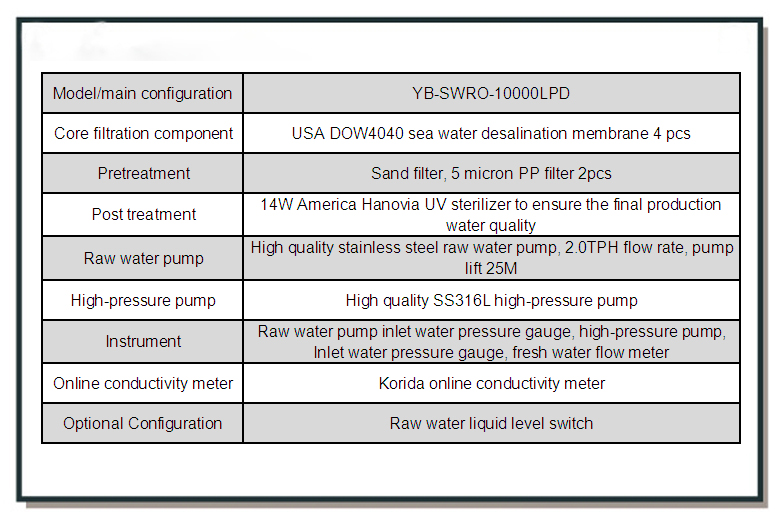 Consumable replacement cycle:
1. Quartz sand: about one year.
2. 5 micron PP filter : about 3 months
3. UV lamp: about 9000hours, one year.
4. USA DOW RO membrane: about 3 years
Note: the premise of calculation of above replacement cycle is on the basis of satisfying the use and maintenance condition of this equipment, running 20 hours per day.


YB-SWRO-10000LPD Portable Movable Seawater Desalination RO system
Process flow diagram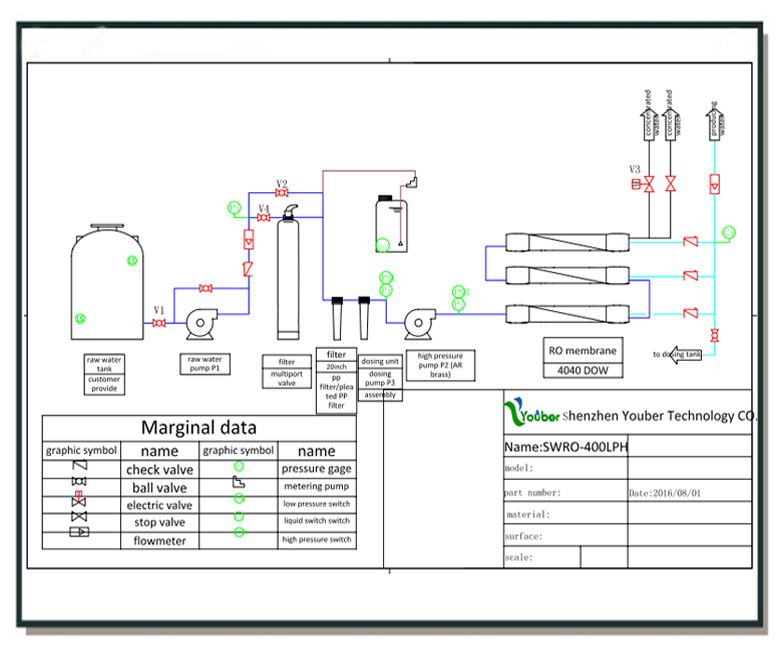 Portable Movable Seawater Desalination RO system Application Range
It can be used in:
(1) seaside villa, seaside villa house drinking water use;
(2) island family, island restaurant, island hotel drinking water use; inflatable water islands and island drinking water purifier;
(3) salty alkali lake, rivers in some middle east regions drinking water;
(4) desert underground water drinking water use, underground water purifier;
(5) marine drinking water use, marine boats, marine ships, army boats, army ships, marine lights boats, marine drinking water maker;
(6) Floating buildings drinking water use.


YB-SWRO-10000LPD Portable Movable Seawater Desalination RO system
Packing details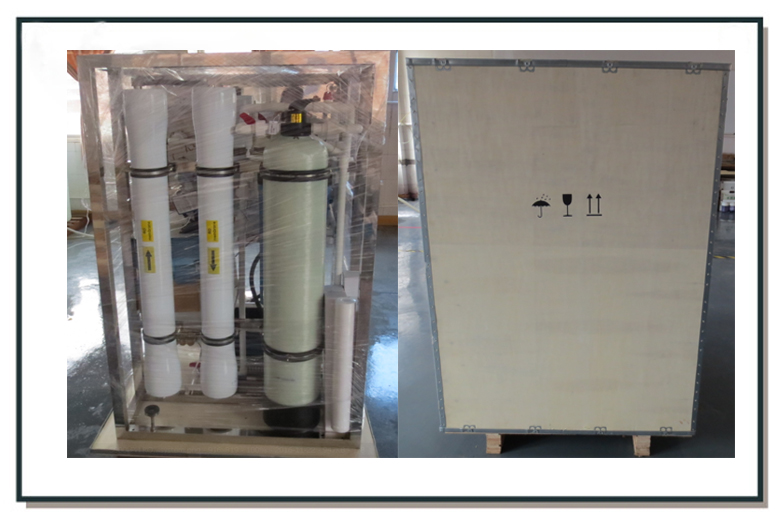 Packaging details:
Plywood case packing for exporting, Packing size:104*100*154CM, 360KG.
Shipping:

Shipment by air or by sea.
We have shipping forwarder to deliver all over the world, customers also can use your own shipping agents.

YOUBER SERVICE:
1. We are specilized in manufacturing portable seawater desalination RO system, seawater desalination watermaker, Models: 500L/day, 1000L/day, 2000L/day, 3000L/day, 5000L/day, 8000L/day, 1000L/day seawater desalination RO machine for drinking water use.
2. We also accept OEM/ODM service based on customers for portable and medium size seawater desalination RO machine.
Like: Different flow rate, different voltage, different appearance, desalinator with cover etc.
CE certificate for portable and movable seawater desalination RO machine