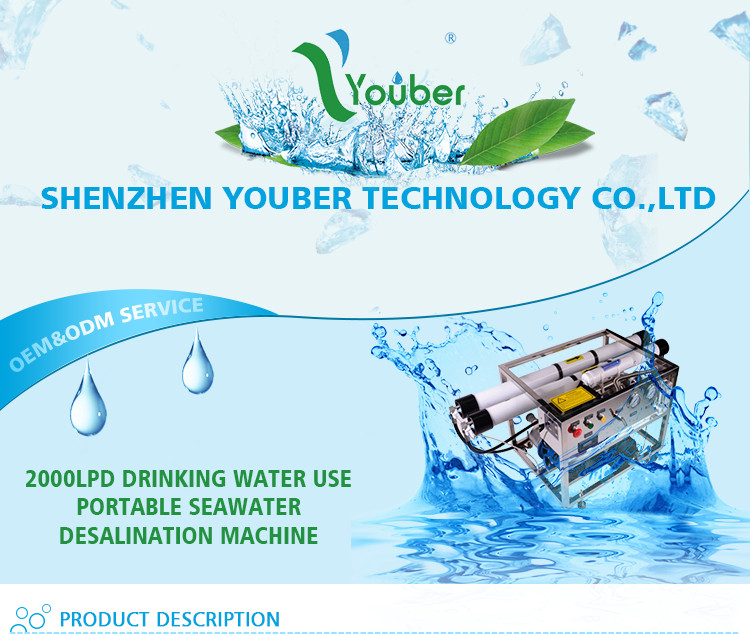 | | |
| --- | --- |
| | |
| | |
| --- | --- |
| | |


YB-SWRO-2000LPD Portable Seawater Desalination Machine Technical Parameter

YB-SWRO-2000LPD

*Testing flow rate

160L/H

Recovery rate

15%

*Suggested to use flow rate

100L/H

Power

1.9KW

Voltage

220V 50HZ

Working temperature

5-45℃

Inlet water TDS

<45000ppm

Freshwater TDS

<600ppm

Design pressure

1000PSI

Working pressure

≤850PSI

Inlet water residual chlorine

<0.1ppm

Inlet water SDI

<5

Inlet water turbidity

<1

Inlet water PH

Neutral

Machine net size

110*50*55 (cm)

Machine net weight

80KG

Machine packing size

123*60*73 (cm)

Machine packing gross weight

101KG
Note:
* is based on the below testing conditions: 32000ppm NaCl, 800psi (5.5MPa), 77°F (25℃), PH is 8, less than relevant recovery rate (variation range no more than -15%);
* Based on the below reasons: different seawater quality in every place, bad seawater quality and bad equipment usage environment, complicated seawater composition, we suggest customer to use "suggested flux", which can protect the equipment service life;

YB-SWRO-2000LPD Portable Seawater Desalination Machine Main configuration
| | |
| --- | --- |
| Model/main configuration | YB-SWRO-2000LPD |
| Core filtration component | USA DOW 2540 sea water desalination membrane 2 pcs |
| Pretreatment | 5 micron PP filter and 1 micron pleated filter |
| Post treatment | 10W America Hanovia UV sterilizer and big T33 coconut shell activated carbon |
| Raw water pump | Lingxiao pump, suction head 6m,1.5TPH flow rate, pump lift 25M |
| High-pressure pump | stainless steel 316L |
| Instrument | Raw water pump inlet water pressure gauge, high-pressure pump, Inlet water pressure gauge, fresh water flow meter |
| Online conductivity meter | Korida online conductivity meter |
| Optional Configuration | liquid level switch, pressure tank |
Consumable replacement cycle:
1.5 micron PP filter and 1micron pleated filter : about 3 months
2.Carbon filter: about 6 months
3.UV lamp: about 9000hours, one year.
4.USA DOW RO membrane: about 3 years
Note:the premise of calculation of above replacement cycle is on the basis of satisfying the use and maintenance condition of this equipment, running 20 hours per day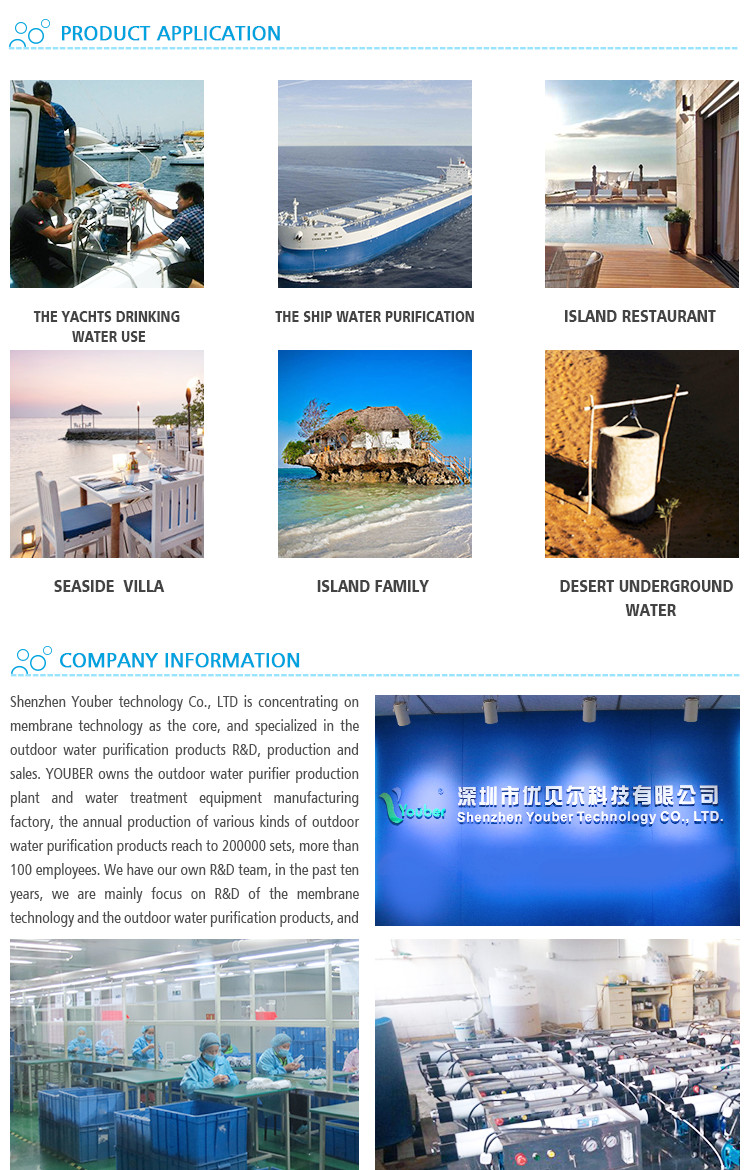 OUR CORAPTE MASSION
These products are mainly to solve the drinking water and domestic water problem in the outdoor or the municipal water shortage areas. Our customers come from all over the world, and mainly concentrated in North America, Europe, Middle East and Southeast Asia and other regions and countries, including several well-known enterprises in water purification industry. At least 5 million people in the world today are using YOUBER's manufacturing outdoor water purification products. Health clean water is one of the necessary conditions of human survival depends on, and in today's global development of industrialization, the world less and less available water resources, environmental pollution is more and more serious, Shenzhen Youber Technology CO., LTD aims to improve the global water as own duty, With science and technology innovation, the good faith management as the core competitiveness, Open our eyes to the whole world, YOUBER hopes to cooperate with the like-minded friends from all over the world, to contribute to the water environment of the human.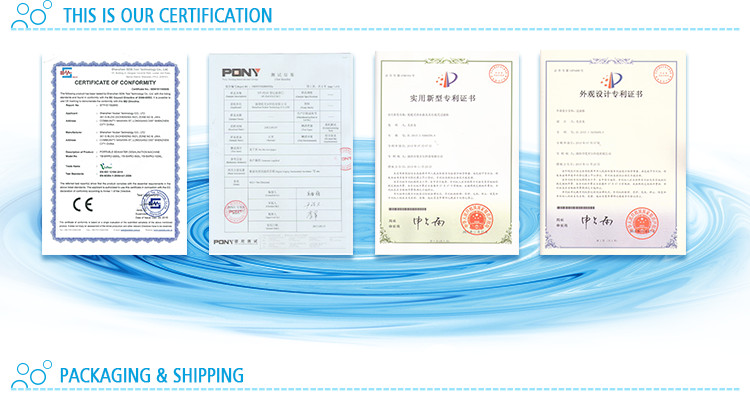 Portable seawater desalination RO machine packing: Plywood case packing for exporting. 2000L/day seawater desalination RO machine, packing size:1210x600x730mm, 101KG.
One unit RO machine, you can ship via courier or by air.
If more than 2 units, we suggest by air or by sea.We have shipping forwarder to deliver all over the world, customers also can use your own shipping agents